Zanskar Valley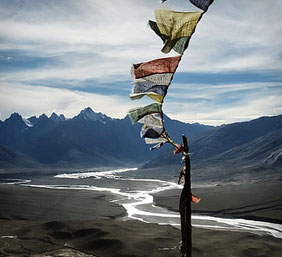 Nestled in between the majestic Himalayan ranges, Zanskar valley is considered to be the most fascinating and adventurous hub of tourists.It is higher than any other valley in Ladakh and is an isolated and scantily inhabited. A devour of pretty landscape and cultural diversity, Zanskar is rich in pungent, therapeutic foliage and aromatic plants.
Spread over a vast expansion of 5000 square kilometers, Zanskar is bounded by lofty mountains and deep valleys. Area remains inaccessible for most part of the year owing to the intense snowstorms.Summer time is ideal for visiting Zanskar.
The valley features lush green landscape,snow-capped mountains dotting the horizon.There are many natural trekking routes and trekkers love taking them.
The Chadar trek in Zanskar is to be experienced at least once in a lifetime. The mesmerizing journey through the frozen Zanskar River is in fact a voyage to the heart of this isolated place. This impressive ramble pursues the conventional trading course through the Zanskar Ravine. This gorge, which is impenetrable throughout the summer, is sustenance to the outer world in the pits of winter.
River rafting and kayaking is carried out in Zanskar river
The dash of escapades can be added by Jeep Safaris through the rough roads of this craggy yet eye-catching valley. Jeep safari through the remotest interiors of this great land would provide one with the exhilarating opportunity to intermingle with the locales. The natural beauty of an unspoiled landscape with breath taking scenery of marvelous glaciers makes a spectacular panorama. Major tourist-destinations in Zanskar are: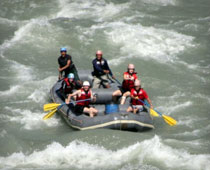 Padum
Padum is a small town and administrative headquarter of Zanskar.It is lovated at an elevation of 3505m from the sea level,due to which it is a popular trekking destination.It has quite a few facilities including an internet cafe,phone booths and a bunch of hotels and restaurants.
The landscapes are wonderful with different shapes and colors of the mountains,rocks and boulders.Yaks and Dzo graze camly in the green fields
Zangla
Zangla is a small village .It has an old castle which is in ruins except for a small chapel. Exquisite frescos adorned an old monastery in nearby village called Tsa Zar
An old nunnery,worth visiting,displays the austere lifestyle of the small monastic community of nuns.
Zongkul
Zongkul has an amazing cave monastery.The monastery is linked with the famous Indian Yogi Naropa who lectured in the universities of Nalanda and Vikransil.It was used by him for solitary meditation purpose.It stands on the rock face of Ating gorge like a nest.THe frescos and murals reflect high degree of srtistic accomplishment.The murals are said to be done by Zhadpo Dorje, who was a celebrated scholar painter and was active for 300 years.
Phugtal
Phugthal is the most amazingly located monastic establishment in ladakh.It is a challenging destination because it is locates high uo in the sheer mountain face of a lateral gorge.It's foundation date back to early 12th century and is now housed by a community of about 40 monks.The interior of the monastery displays frescos and ceiling decorations reflecting strong Indian artistic and iconographic influence.
Stongde
Stongde is located at an elevation of about 3500m. The village has some historic gompas.you will come across a couple of lakes ,on the way , which are surrounded by marmots and their holes.Beautiful sceenery of green meadows,snoe-clad peaks and swift flowing rivers make it a perfect place for picnic-spots and for nature-lovers
Shagma Kharpu
Shagma Karphu is known for its spectacular view of the sunset and sunrise ,and adjoining mountain peaks,The land is dotted with marshy lands that are formed by the melting of the snow.The grass in autumn has shades of orange color making the place a speechless beauty.
Karsha
Karsha is a typical human settlement It has the famous Gelupa monasterywhich is a tell-tale of the importance of religionin the lives of inhabitants of Zanskar Valley.